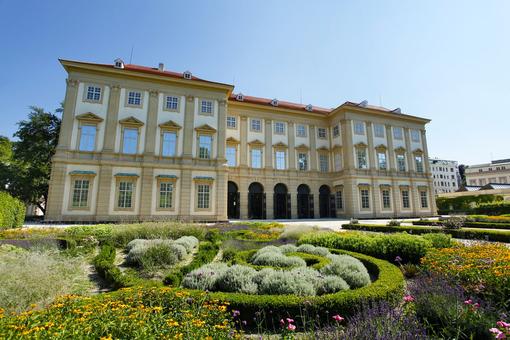 Sommer Rhapsodie in the Garden 2021
Against the backdrop of the summer garden, contemporary and classical concerts, readings and cabaret evenings in July and August offer an extensive and varied program: Intense and stirring, Philipp Hochmair presents Adalbert Stifter's novella "Der Hagestolz," to which the Austrian Salonists arrange the only possible soundtrack with music by Anton Bruckner. The internationally acclaimed jazz singer Simone Kopmajer also demonstrates her fine timbre and cool swing with the current jazz bossa nova album "My Wonderland". In his solo "und..." Alfred Dorfer reports in his usual virtuoso and sharp-tongued manner on everyday phenomena, zeitgeist phenomena and political facts. The exceptional Viennese-born pianist Stefan Vladar will perform Johann Sebastian Bach's "Goldberg Variations," a highlight of Baroque variation art. The vocal band Hermann, probably the most passionate a cappella boy group, embarks on an adventurous journey of great emotions with "Alles Tango". And Count Basic, one of the most internationally respected Austrian bands, will be a guest, closing the "Summer Rhapsody in the Garden" with their danceable message "Jazz in the House".
The entire program will be announced on March 15.


Venue
Fürstengasse 1
1090
Wien
Map
Current Dates
Mon.

19 Jul 2021

Tue.

20 Jul 2021

Wed.

21 Jul 2021

Thu.

22 Jul 2021

Fri.

23 Jul 2021

Sat.

24 Jul 2021

Sun.

25 Jul 2021

Mon.

26 Jul 2021

Tue.

27 Jul 2021

Wed.

28 Jul 2021
All dates
All Dates
July

Thu.

29 Jul 2021

Fri.

30 Jul 2021

Sat.

31 Jul 2021

August

Sun.

01 Aug 2021

Mon.

02 Aug 2021

Tue.

03 Aug 2021

Wed.

04 Aug 2021

Thu.

05 Aug 2021

Fri.

06 Aug 2021

Sat.

07 Aug 2021

Sun.

08 Aug 2021

Mon.

09 Aug 2021

Tue.

10 Aug 2021

Wed.

11 Aug 2021

Thu.

12 Aug 2021

Fri.

13 Aug 2021

Sat.

14 Aug 2021

Sun.

15 Aug 2021

Mon.

16 Aug 2021

Tue.

17 Aug 2021

Wed.

18 Aug 2021