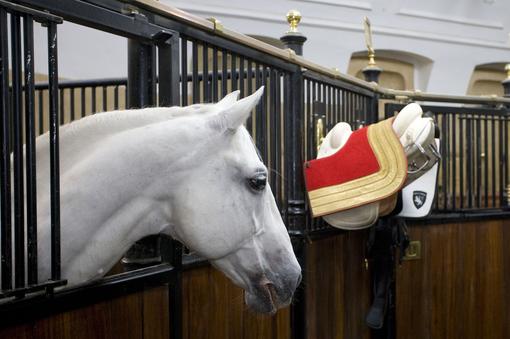 Guided Tours
In the Guided Tour through the Spanish Riding School you will visit the baroque Winter Riding School, the Summer Riding School with one of the world's largest oval
horse walkers and the stables of the Lipizzan stallions, which have been located in the Stallburg (one of Vienna's most prominent Renaissance buildings) for more than 450 years. You will visit the most important areas of our historic institution and will learn about our history, equestrian traditions and about the stars – the Lipizzan stallions!
Meeting point for the guided tour: directly at the Visitor Centre, 5 minutes before the guided tour starts.
Guided tours take place at 1 p.m. 2 p.m., 3 p.m. and 4 p.m. They last about 60 minutes.
Venue
Michaelerplatz 1 (Besucherzentrum/Visitor Center)
1010
Wien
Map
Tickets & Info
Reservierung /Reservation
Current Dates
Fri.

30 Oct 2020

Sat.

31 Oct 2020

Sun.

01 Nov 2020

Wed.

04 Nov 2020

Fri.

06 Nov 2020

Sat.

07 Nov 2020

Wed.

11 Nov 2020

Fri.

13 Nov 2020

Sat.

14 Nov 2020

Wed.

18 Nov 2020
All dates
All Dates
November

Fri.

20 Nov 2020

Sat.

21 Nov 2020

Wed.

25 Nov 2020

Fri.

27 Nov 2020

Sat.

28 Nov 2020

December

Tue.

01 Dec 2020

Wed.

02 Dec 2020

Fri.

04 Dec 2020

Sat.

05 Dec 2020

Tue.

08 Dec 2020

Wed.

09 Dec 2020

Fri.

11 Dec 2020

Sat.

12 Dec 2020

Tue.

15 Dec 2020

Wed.

16 Dec 2020

Fri.

18 Dec 2020

Sat.

19 Dec 2020

Tue.

22 Dec 2020

Wed.

23 Dec 2020

Mon.

28 Dec 2020

Tue.

29 Dec 2020

Wed.

30 Dec 2020