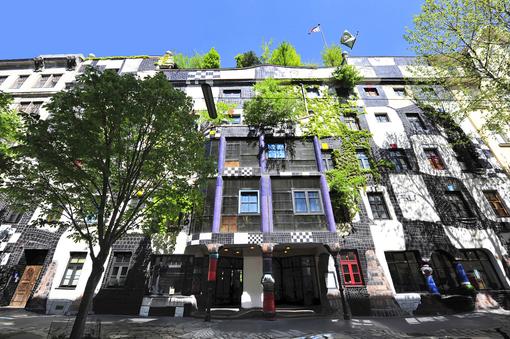 Ines Doujak
For her exhibition project in the Kusnt Haus Wien garage and the adjacent courtyard garden, the artist Ines Doujak works with an extensive collection of materials from nature: dried plants, mushrooms, seeds, crushed blossoms, leaves, berries, wood, ash, clay, stones, sand. In a process-oriented way of working, Doujak develops the installation Landschaftsmalerei and works with the natural archive at her disposal as artistic material.
Ines Doujak takes up a highly topical, political theme in her work landraub. Panels with historical representations of apple varieties are installed in the courtyard and in public space. On them are original quotes from so-called "land grabbers" of the last 400 years. These illustrate that the unscrupulous expropriation and displacement of rural populations around the world by corporations, states or investors is not a historical phenomenon. The apple varieties on the posters, some of which no longer exist, point to a dimension of land grabbing in the form of the destruction of biodiversity through monocultures.
Venue
Garage
Untere Weißgerberstraße 13
1030
Wien
Current Dates
Mon.

27 Sep 2021

,

10 a.m.

-

6 p.m.

Tue.

28 Sep 2021

,

10 a.m.

-

6 p.m.

Wed.

29 Sep 2021

,

10 a.m.

-

6 p.m.

Thu.

30 Sep 2021

,

10 a.m.

-

6 p.m.

Fri.

01 Oct 2021

,

10 a.m.

-

6 p.m.

Sat.

02 Oct 2021

,

10 a.m.

-

6 p.m.

Sun.

03 Oct 2021

,

10 a.m.

-

6 p.m.