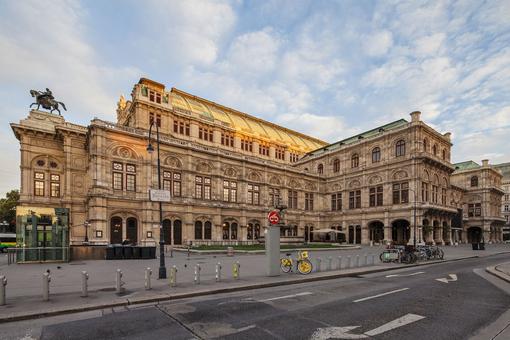 Wiener Staatsoper – Live@Home
The Vienna State Opera is closed, but plays online daily:
Experience great opera and ballet at home - in Austria and worldwide!
Like almost all major opera houses and concert halls around the world, the Vienna State Opera had to cancel all performances and events - until 30 June 2020.
In this difficult situation, the Haus am Ring is now opening its livestream archives so that music lovers all over the world can still enjoy opera and ballet. Starting on Sunday, March 15, 2020, the Vienna State Opera will show recordings of previous opera and ballet performances daily via its streaming platform www.staatsoperlive.com - worldwide and free of charge. With a few exceptions, this online programme can even follow the originally planned schedule. The streams start at 7 p.m. and 6 p.m. (Die Frau ohne Schatten, Der Rosenkavalier) and 5 p.m. CET (Ariodante, Parsifal) and are available for 24 hours. The children's operas (Cinderella, The Fairies) start at 11 am CET. For technical reasons, not all subtitle languages are available in rare cases.
At home you can experience top-class performances with renowned singers and great conductors in different instrumentations.
Venue
Opernring 2
1010
Wien
Map
Current Dates
Fri.

29 May 2020

Sat.

30 May 2020

Sun.

31 May 2020

Mon.

01 Jun 2020

Tue.

02 Jun 2020

Wed.

03 Jun 2020

Thu.

04 Jun 2020

Fri.

05 Jun 2020

Sat.

06 Jun 2020

Sun.

07 Jun 2020
All dates
All Dates
June

Mon.

08 Jun 2020

Tue.

09 Jun 2020

Wed.

10 Jun 2020

Thu.

11 Jun 2020

Fri.

12 Jun 2020

Sat.

13 Jun 2020

Sun.

14 Jun 2020

Mon.

15 Jun 2020

Tue.

16 Jun 2020

Wed.

17 Jun 2020

Thu.

18 Jun 2020

Fri.

19 Jun 2020

Sat.

20 Jun 2020

Sun.

21 Jun 2020

Mon.

22 Jun 2020

Tue.

23 Jun 2020

Wed.

24 Jun 2020

Thu.

25 Jun 2020

Fri.

26 Jun 2020

Sat.

27 Jun 2020

Sun.

28 Jun 2020

Mon.

29 Jun 2020

Tue.

30 Jun 2020