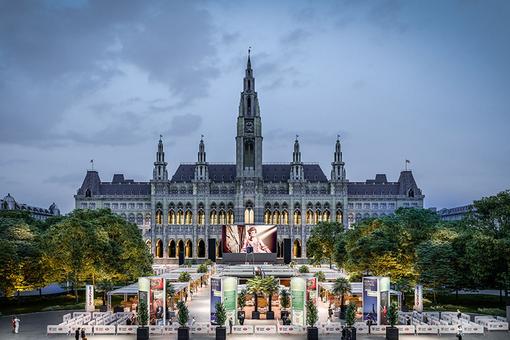 Film Festival in front of the City Hall 2020
The Film Festival on Vienna's Rathausplatz has been a trademark of the federal capital for three decades. Hundreds of thousands of people from Vienna and all over the world visit this popular event every year to enjoy the unique mixture of culture, culinary delights and the special flair of the city with free admission. But this year everything is different and the Film Festival is like never before.

Due to the changed framework conditions for events, the 2020 festival will be launched with an innovative concept which, despite the observance of all the necessary safety measures to protect health, will enable relaxed and entertaining cultural and culinary enjoyment in the open air.
Two events - one safe experience

This year, the Rathausplatz will be divided into a clearly defined open-air cinema area in front of the town hall and a completely separate catering area for 500 guests each. By this structuring of the event area, the prescribed safety distances and protective measures can be implemented in the best possible way.

4 July to 6 September 2020
Film start daily at nightfall
Admission 2 hours before film start - only with a valid ticket!
Gastronomy:
Monday to Thursday 17:00 to 24:00
Friday to Sunday 11:00 to 24:00
table reservation recommended!
Highlights:
OPER
04.07. + 30.08. / Fidelio
08.07. + 08.08. / Tosca (Wiener Staatsoper 2019)
22.08. / Les Indes Galantes

KONZERT KLASSIK
18.07. + 29.08. / John Williams - Live in Vienna (mit John Williams und Anne-Sophie Mutter)
05.07. + 28.08. / Martin Grubingers The Percussive Planet Ensemble
10.07. + 24.08. / Beethoven, Symphonie Nr. 9 (mit Claudio Abbado)

TANZ
07.07. + 25.08. / Romeo und Julia
11.07. + 31.08. / Riverdance: 25th Anniversary
13.07. + 10.08. / Beethoven Project - Ballet by John Neumeier
14.08. / Schwanensee

MUSICAL
01.08. + 05.09. / I am From Austria - Das Musical mit den Hits von Rainhard Fendrich

POP
09.07. + 03.09. / Avicii Tribute Concert - for Mental Health Awareness
23.07. + 20.08. / Herbert Grönemeyer plays Baloise Session
23.07. + 01.09. / Max Raabe & Palast Orchester – MTV Unplugged
25.07. + 13.08. / Take That: Wonderland – Live at the O2
30.07. + 27.08. / Mando Diao - Berlin Live

JAZZ
06.07. + 01.09. / Respect to Aretha
07.08. / Quincy Jones - A Musical Celebration in Paris
Venue
Rathausplatz
1010
Wien
Map
Current Dates
Thu.

13 Aug 2020

Fri.

14 Aug 2020

Sat.

15 Aug 2020

Sun.

16 Aug 2020

Mon.

17 Aug 2020

Tue.

18 Aug 2020

Wed.

19 Aug 2020

Thu.

20 Aug 2020

Fri.

21 Aug 2020

Sat.

22 Aug 2020
All dates
All Dates
August

Sun.

23 Aug 2020

Mon.

24 Aug 2020

Tue.

25 Aug 2020

Wed.

26 Aug 2020

Thu.

27 Aug 2020

Fri.

28 Aug 2020

Sat.

29 Aug 2020

Sun.

30 Aug 2020

Mon.

31 Aug 2020

September

Tue.

01 Sep 2020

Wed.

02 Sep 2020

Thu.

03 Sep 2020

Fri.

04 Sep 2020

Sat.

05 Sep 2020

Sun.

06 Sep 2020