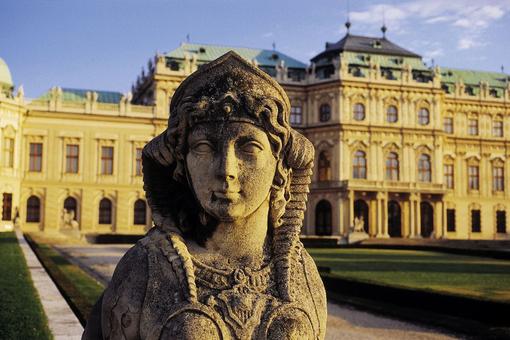 Bel Silenzio
The baroque rooms of the Upper Belvedere with the world-famous art collection are open just for you on this evening and invite you to a quiet, meditative visit. The name says it all. An expertly guided meditation leads you into a unique art experience: let go, immerse yourself and perceive, with all your senses and inner attentiveness. Trace the secrets and special features of Gustav Klimt's kiss or Egon Schiele's house wall. Let the colours, the materials, the structures and the motifs take effect and give yourself and the works of art time. This too is a museum - in the Belvedere.
The meditation of Karoline Gawrzynski is based on the tradition of Kundalini Yoga. It is characterised by dynamic physical exercises (asanas) and conscious breathing (pranayama), which lead to deep relaxation and inner peace. The participants can thus enjoy the subsequent exhibition tour with a focused perception and let the works of art appear in silence.
Suitable for all participants regardless of age or physical fitness.
Admission from 18.30 hrs
Start times of the meditation units to choose from:
6:45, 7:15, 7:45 and 8:15.
Please arrive at the Upper Belvedere at least 15 minutes before the start.
Procedure:
Welcome in the Sala terrena
Meditation in small groups under the guidance of Karoline Gawrzynski (Marble Hall)
Individual visit of the collection in silence and serenity (exhibition rooms Oberes Belvedere, Vienna around 1900)
Finish with tea and refreshments in the Sala terrena
Registration required!
Tickets online at: www.belvedere.at/programm
and at all the ticket offices of the Belvedere
Price: € 25


Venue
Prinz-Eugen-Straße 27
1030
Wien
Map
Tickets & Info
Anmeldung erbeten:
Current Dates
Tue.

25 Feb 2020

,

6:30 p.m.

-

10 p.m.

Tue.

10 Mar 2020

,

6:30 p.m.

-

10 p.m.

Tue.

31 Mar 2020

,

6:30 p.m.

-

10 p.m.