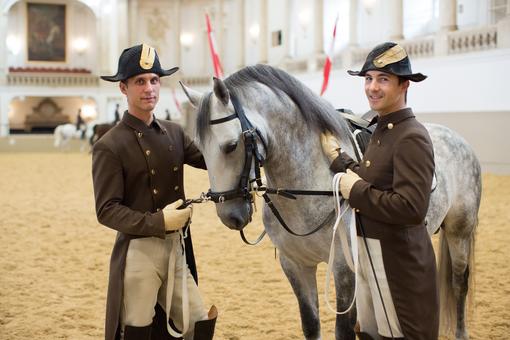 The Lipizzans' Morning Exercise
The Morning Exercise offers an insight into the training of the riders and their Lipizzans. You are going to see the training of the grey young stallions and the fully-trained School stallions – our "white stars" – in the beautiful setting of the Winter Riding School, accompanied by classical Viennese music.
The Morning Exercise includes relaxation exercises, the refining and perfecting of lessons and the targeted strengthening of muscles.
In order to protect the horses, the famous Schools above the ground, which are shown during the performances, are not practised on a daily basis and are only occasionally seen during the Morning Exercise.
Tickets are available at the Visitor Centre at Michaelerplatz 1, 1010 Vienna (during the main season also at the Box Office at Josefsplatz).

Venue
Michaelerplatz 1 (Besucherzentrum/Visitor Center)
1010
Wien
Map
Current Dates
Fri.

01 May 2020

,

10 a.m.

-

noon

Tue.

05 May 2020

,

10 a.m.

-

noon

Wed.

06 May 2020

,

10 a.m.

-

noon

Thu.

07 May 2020

,

10 a.m.

-

noon

Fri.

08 May 2020

,

10 a.m.

-

noon

Sat.

09 May 2020

,

10 a.m.

-

noon

Tue.

12 May 2020

,

10 a.m.

-

noon

Wed.

13 May 2020

,

10 a.m.

-

noon

Thu.

14 May 2020

,

10 a.m.

-

noon

Fri.

15 May 2020

,

10 a.m.

-

noon
All dates
All Dates
May

Tue.

19 May 2020

,

10 a.m.

-

noon

Wed.

20 May 2020

,

10 a.m.

-

noon

Thu.

21 May 2020

,

10 a.m.

-

noon

Fri.

22 May 2020

,

10 a.m.

-

noon

Tue.

26 May 2020

,

10 a.m.

-

noon

Wed.

27 May 2020

,

10 a.m.

-

noon

Thu.

28 May 2020

,

10 a.m.

-

noon

Fri.

29 May 2020

,

10 a.m.

-

noon

June

Mon.

01 Jun 2020

,

10 a.m.

-

noon

Tue.

02 Jun 2020

,

10 a.m.

-

noon

Wed.

03 Jun 2020

,

10 a.m.

-

noon

Thu.

04 Jun 2020

,

10 a.m.

-

noon

Fri.

05 Jun 2020

,

10 a.m.

-

noon

Tue.

09 Jun 2020

,

10 a.m.

-

noon

Wed.

10 Jun 2020

,

10 a.m.

-

noon

Thu.

11 Jun 2020

,

10 a.m.

-

noon

Tue.

16 Jun 2020

,

10 a.m.

-

noon

Wed.

17 Jun 2020

,

10 a.m.

-

noon

Thu.

18 Jun 2020

,

10 a.m.

-

noon

Fri.

19 Jun 2020

,

10 a.m.

-

noon

Sat.

20 Jun 2020

,

10 a.m.

-

noon

Sun.

21 Jun 2020

,

10 a.m.

-

noon

Tue.

23 Jun 2020

,

10 a.m.

-

noon

Wed.

24 Jun 2020

,

10 a.m.

-

noon

Thu.

25 Jun 2020

,

10 a.m.

-

noon

Fri.

26 Jun 2020

,

10 a.m.

-

noon

Sat.

27 Jun 2020

,

10 a.m.

-

noon

Sun.

28 Jun 2020

,

10 a.m.

-

noon

August

Tue.

18 Aug 2020

,

10 a.m.

-

noon

Wed.

19 Aug 2020

,

10 a.m.

-

noon

Thu.

20 Aug 2020

,

10 a.m.

-

noon

Fri.

21 Aug 2020

,

10 a.m.

-

noon

Sat.

22 Aug 2020

,

10 a.m.

-

noon

Sun.

23 Aug 2020

,

10 a.m.

-

noon

Tue.

25 Aug 2020

,

10 a.m.

-

noon

Wed.

26 Aug 2020

,

10 a.m.

-

noon

Thu.

27 Aug 2020

,

10 a.m.

-

noon

Fri.

28 Aug 2020

,

10 a.m.

-

noon

September

Tue.

01 Sep 2020

,

10 a.m.

-

noon

Wed.

02 Sep 2020

,

10 a.m.

-

noon

Thu.

03 Sep 2020

,

10 a.m.

-

noon

Fri.

04 Sep 2020

,

10 a.m.

-

noon

Tue.

08 Sep 2020

,

10 a.m.

-

noon

Wed.

09 Sep 2020

,

10 a.m.

-

noon

Thu.

10 Sep 2020

,

10 a.m.

-

noon

Fri.

11 Sep 2020

,

10 a.m.

-

noon

Tue.

15 Sep 2020

,

10 a.m.

-

noon

Wed.

16 Sep 2020

,

10 a.m.

-

noon

Thu.

17 Sep 2020

,

10 a.m.

-

noon

Fri.

18 Sep 2020

,

10 a.m.

-

noon

Tue.

22 Sep 2020

,

10 a.m.

-

noon

Wed.

23 Sep 2020

,

10 a.m.

-

noon

Thu.

24 Sep 2020

,

10 a.m.

-

noon

Fri.

25 Sep 2020

,

10 a.m.

-

noon

Tue.

29 Sep 2020

,

10 a.m.

-

noon

Wed.

30 Sep 2020

,

10 a.m.

-

noon

October

Thu.

01 Oct 2020

,

10 a.m.

-

noon

Fri.

02 Oct 2020

,

10 a.m.

-

noon

Tue.

06 Oct 2020

,

10 a.m.

-

noon

Wed.

07 Oct 2020

,

10 a.m.

-

noon

Thu.

08 Oct 2020

,

10 a.m.

-

noon

Fri.

09 Oct 2020

,

10 a.m.

-

noon

Sat.

10 Oct 2020

,

10 a.m.

-

noon

Tue.

13 Oct 2020

,

10 a.m.

-

noon

Wed.

14 Oct 2020

,

10 a.m.

-

noon

Fri.

16 Oct 2020

,

10 a.m.

-

noon

Sat.

17 Oct 2020

,

10 a.m.

-

noon

Tue.

20 Oct 2020

,

10 a.m.

-

noon

Wed.

21 Oct 2020

,

10 a.m.

-

noon

Thu.

22 Oct 2020

,

10 a.m.

-

noon

Fri.

23 Oct 2020

,

10 a.m.

-

noon

Sat.

24 Oct 2020

,

10 a.m.

-

noon

Tue.

27 Oct 2020

,

10 a.m.

-

noon

Wed.

28 Oct 2020

,

10 a.m.

-

noon

Thu.

29 Oct 2020

,

10 a.m.

-

noon

Fri.

30 Oct 2020

,

10 a.m.

-

noon

November

Tue.

03 Nov 2020

,

10 a.m.

-

noon

Wed.

04 Nov 2020

,

10 a.m.

-

noon

Thu.

05 Nov 2020

,

10 a.m.

-

noon

Fri.

06 Nov 2020

,

10 a.m.

-

noon

Sat.

07 Nov 2020

,

10 a.m.

-

noon

Tue.

10 Nov 2020

,

10 a.m.

-

noon

Wed.

11 Nov 2020

,

10 a.m.

-

noon

Thu.

12 Nov 2020

,

10 a.m.

-

noon

Fri.

13 Nov 2020

,

10 a.m.

-

noon

Sat.

14 Nov 2020

,

10 a.m.

-

noon

Tue.

17 Nov 2020

,

10 a.m.

-

noon

Wed.

18 Nov 2020

,

10 a.m.

-

noon

Thu.

19 Nov 2020

,

10 a.m.

-

noon

Fri.

20 Nov 2020

,

10 a.m.

-

noon

Sat.

21 Nov 2020

,

10 a.m.

-

noon

Tue.

24 Nov 2020

,

10 a.m.

-

noon

Wed.

25 Nov 2020

,

10 a.m.

-

noon

Thu.

26 Nov 2020

,

10 a.m.

-

noon

Fri.

27 Nov 2020

,

10 a.m.

-

noon

December

Tue.

01 Dec 2020

,

10 a.m.

-

noon

Wed.

02 Dec 2020

,

10 a.m.

-

noon

Thu.

03 Dec 2020

,

10 a.m.

-

noon

Tue.

08 Dec 2020

,

10 a.m.

-

noon

Wed.

09 Dec 2020

,

10 a.m.

-

noon

Thu.

10 Dec 2020

,

10 a.m.

-

noon

Fri.

11 Dec 2020

,

10 a.m.

-

noon

Tue.

15 Dec 2020

,

10 a.m.

-

noon

Wed.

16 Dec 2020

,

10 a.m.

-

noon

Thu.

17 Dec 2020

,

10 a.m.

-

noon

Fri.

18 Dec 2020

,

10 a.m.

-

noon

Tue.

22 Dec 2020

,

10 a.m.

-

noon

Wed.

23 Dec 2020

,

10 a.m.

-

noon

Thu.

24 Dec 2020

,

10 a.m.

-

noon

Sat.

26 Dec 2020

,

10 a.m.

-

noon

Sun.

27 Dec 2020

,

10 a.m.

-

noon

Mon.

28 Dec 2020

,

10 a.m.

-

noon

Tue.

29 Dec 2020

,

10 a.m.

-

noon

Wed.

30 Dec 2020

,

10 a.m.

-

noon